No admin ever: "Working with printers is the best thing in the world!"
Working with printers is just something we need to deal with and moving from Hybrid Azure AD join to Azure AD join usually include a hard time for admins, in-regards to printers. #PrinterNightmare should still be considered and moving away from GPOs is key in the modern world.
Change log:
.Version 1.0.0.9
Stability fixes and added Epson as supported manufacturer.
.Version 1.0.0.8
-MinimumSupportedWindowsRelease now reflects the latest changes while uploading the package to Intune
.Version 1.0.0.7
Changed how the "minimum supported Windows requirement" is set while creating the Intune W32 app
_template has been updated to PSADT 3.9.3
v1.0.0.7 has been tested on:
Azure AD-joined Windows 11-22H2
Hybrid Azure AD-joined Windows 11-22H2
Hybrid Azure AD-joined Windows 10-22H2
.Version 1.0.0.6
Fixed: Microsoft recently changed the way Windows Minimum Supported WindowsRelease for Win32 App requirements are set.
The tool will now set "W10_20H2" as the minimum supported Windows release instead of "20H2".
_template has been updated to PSADT 3.9.3 https://github.com/PSAppDeployToolkit/PSAppDeployToolkit/releases
.Version 1.0.0.5
Added Intermec, NiceLabel and Riso logos
.Version 1.0.0.4
Added a new textbox to set the AD domain name. This will simplify the printer mapping while using Azure AD-joined devices.
.Version 1.0.0.3
Added Konica Minolta support and logo
.Version 1.0.0.2
Fixed a case sensitive issue which would throw $driverPath error
Added Lexmark and Ricoh logos
Rock my Printers: Why
Rock my Printers will save you a lot of time when it comes to moving away from those pesky GPO's to a more modern approach. Use Intune to install both drivers and printers, remember that we can still use a print server for the queues.
High level view of what is going to happen:
Export related printer drivers from the server.
Create an installation package per printer, to be installed from Intune.
Automatically upload the installation package to Intune (Win32 app).
Logo, install/uninstallation commands, detection rule will be handled by the tool, so no need to spend time on repetitive activities.
We will now be able to install the driver and map the printer in one go.
Prerequisites
We will use @NickolajA PowerShell module called: "IntuneWin32Apps" to upload the package to Intune. Check it out over at Github: GitHub – MSEndpointMgr/IntuneWin32App: Provides a set of functions to manage all aspects of Win32 apps in Microsoft Endpoint Manager (Intune).
Open: PowerShell as an administrator
Run: Install-Module -Name IntuneWin32App -Confirm:$false -Force:$true
Make sure you are able to manually run PowerShell commands against the printer server if you want to run the tool on a remote device. Example: Get-Printer -ComputerName %PrinterServer%
You may need to change your PowerShell execution policy to allow the tool to run.
Read more: about Execution Policies – PowerShell | Microsoft Learn
Each device must have line of sight to AD during printer installation.
If using Azure AD-joined devices and passwordless: Make sure you have hybrid cloud trust set up.
Rock my Printers: Contents
Rock my Printers use PowerShell App Deployment Toolkit (PSADT) for printer installation. We will configure a template which the tool will use to create each unique printer installation package.
After you have downloaded the tool you will find: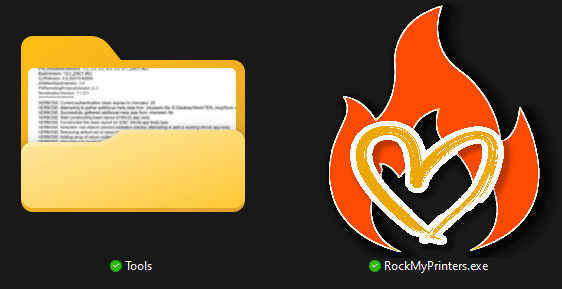 RockMyPrinters.exe (this is the executable to run the tool)
Tools (this folder contains exported drivers, logos logfile etc…)

The installation package will install the printer drivers in system context and run the printer mapping in user context. PSADT has this cool function called Execute-ProcessAsUser, that will create a temporary scheduled task which in-turn will be run as the currently logged on user.
⭐This is just one of the excellent stuff we get access to by using PSADT.
Rock my Printers: Preparation
We will start off by downloading the tool from: NicklasAhlberg/RockMyPrinters (github.com)
Extract the zip file and you will find a Tools folder and RockMyPrinters.exe
Navigate to: Tools -> _Template
Open: %Deploy-Application.ps1% with your favorite editor, I am using VSCode.
Scroll down to line 29 and add your Organizational name as the $appVendor variable. In this demo I will use RockEnrollTech. The appVendor variable will be used for detection after the installation package has run.
Optional: Scroll down to line: 134to check the Execute-ProcessAsUser function in action.
Rock my Printers: Supported manufacturers
All manufacturers are supported by the tool. Below logos have been uploaded and will be used as logo by the Intune Win32 app. All other manufacturers will have a generic logo (see below).
❓Want to add more manufacturers to the list? Tweet at me and I will make it happen!
Rock my Printers: Run the tool
Now that we have made sure that all prerequisites are fulfilled and taken the preparational steps, it is time to run the tool 🤩
Run: RockMyPrinters.exe either directly on the print server or from a remote device.
It is recommended to run it from a remote device, such as Windows 11, as we usually do not want to add "unnecessary" PowerShell modules to our servers.
Click: Settings -> Add tenant ID or domain
Enter either your tenant id or domain name such as YourDomainName.com
Save and close the .txt file
Click: Settings -> Connect to tenant
Login with an account with sufficient Intune privileges


Note

: The sign in prompt will only show if you are not already signed in/have a token.
Add your printer hostname to the textbox
Click: Settings
Click: Get printers
Select printers based on your need and
Click the Rock My Printers logo to have them exported to Intune.


Note

: This will not impact the server itself.
This will take some time depending on a lot of parameters such as file copy speed between client and server, amount of selected printers and internet speed to upload the content to Intune. Count with about 2-3 minutes per printer, this is still much fast than doing it manually, right?
❗Time-out after 15 minutes. Please note that the token will live for 15 minutes and you will need to re-authenticate. As demonstrated below, drivers will be exported and packages created but not uploaded to Intune, if we do not have a valid token.
💡Choose not to connect to the tenant when you do not want to upload the content to Intune. The .intunewin file is found in the Intune folder within each package.

Rock my Printers: Install from Intune (company portal)
✅Now that we have uploaded our printers to Intune all we need to do is create assignments.
I usually add the printers as available and let the users decide which printers to install. It is fully supported to create required assignments as well, this is totally up to each organization to decide upon.

User experience using available assignments.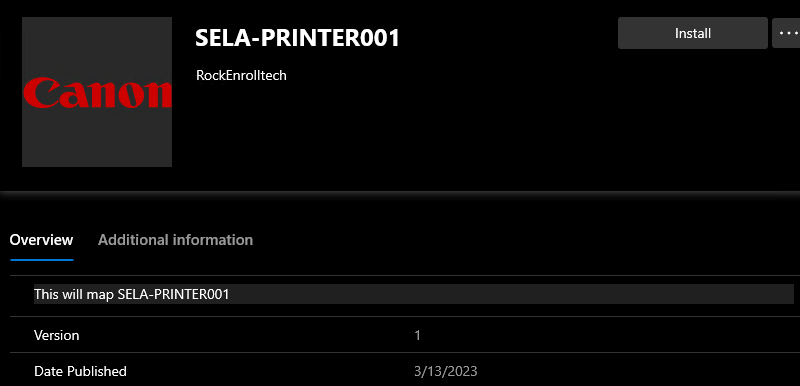 Rock my Printers: Detection
We are using the registry to detect the printer installation.

💡Update the _template version variable (found at line 27) to create new package versions.
Rock my Printers: Theme
🤩I have heard your feedback on my sticky colors and have added the possibility to change theme, should you want to.